A Brief History of Seven Killings wins 2015 Man Booker Prize
A Brief History of Seven Killings wins 2015 Man Booker Prize
A Brief History of Seven Killings by Marlon James has been named as the winner of the 2015 Man Booker Prize for Fiction. A Brief History of Seven Killings is published by Oneworld Publications and it's first Man Booker Prize Winner.
Marlon James, the 44-year-old now Minneapolis resident, is the first Jamaican author to win the prize in its 47-year history.
A Brief History of Seven Killings is a 686-page epic with over 75 characters and voices. Set in Kingston, where James was born, the book is a fictional history of the attempted murder of Bob Marley in 1976. Of the book, the New York Times said: 'It's like a Tarantino remake of "The Harder They Come", but with a soundtrack by Bob Marley and a script by Oliver Stone and William Faulkner...epic in every sense of that word: sweeping, mythic, over-the-top, colossal and dizzyingly complex.'
Read the judges' comments here.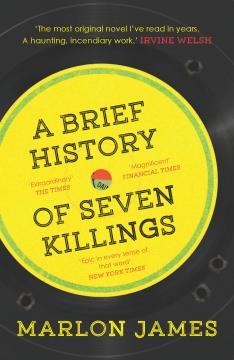 A Brief History of Seven Killings    
Marlon James    
Paperback RRP $22.99 
Jamaica, 1976: Seven men storm Bob Marley's house with machine guns blazing. The reggae superstar survives, but leaves Jamaica the following day, not to return for two years. Inspired by this near-mythic event, A Brief History of Seven Killings is an imagined oral biography, told by ghosts, witnesses, killers, members of parliament, drug dealers, conmen, beauty queens, FBI and CIA agents, reporters, journalists, and even Keith Richards' drug dealer. Marlon James's dazzling novel is a tour de force. It traverses strange landscapes and shady characters, as motivations are examined - and questions asked - in a masterpiece of imagination.
ABOUT THE AUTHOR
Marlon James was born in Kingston, Jamaica in 1970. He graduated from the University of the West Indies with a degree in literature. He currently teaches a creative writing course in Minnesota and is working on his next novel.