Indie Book of the Year wins the 2016 Stella Prize
Indie Book of the Year wins the 2016 Stella Prize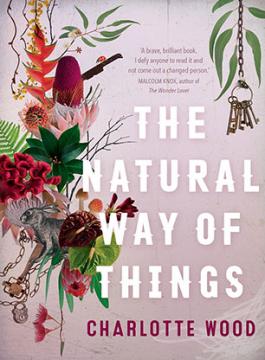 The Natural Way of Things by Charlotte Wood (Allen & Unwin) has won the 2016 Stella Prize for women's writing.
Charlotte Wood was presented with the $50,000 prize at an awards ceremony in Sydney on 19 April. She was chosen from a shortlist of six that included:Six Bedroomsby Tegan Bennett Daylight (Random House),Hope Farmby Peggy Frew (Scribe),A Few Days in the Country: And Other Storiesby Elizabeth Harrower (Text),The World Without Usby Mireille Juchau (Bloomsbury) andSmall Acts of Disappearance: Essays on Hungerby Fiona Wright (Giramondo). Each of the shortlistees received $2000.
In her acceptance speech Wood said she was 'honoured beyond words to be recognised with the Stella Prize' and 'so grateful to the Stella organisers and benefactors who give their expertise and time, their goodwill and their money to this cause of literature, created by women. They overcame enormous hurdles to set up this prize, and its success in seizing the public imagination so forcefully in such a short time has been utterly extraordinary.'
Read her full acceptance speech here.
Chair of judges Brenda Walker saidThe Natural Way of Thingsis a novel 'of—and for—our times, explosive yet written with artful, incisive coolness'. 'It parodies, with steely seriousness, the state of being visible and female in contemporary Western society,' said Walker.
The Stella Prize was established to celebrate Australian women's contribution to literature. For more information, visit the Stella Prize website here.