Stella Prize 2017 Winner Announced
Stella Prize 2017 Winner Announced
The winner of the 2017 Stella Prize is Heather Rose for her novel The Museum of Modern Love. The prize was awarded at the Arts Centre in Melbourne on Tuesday 18 April. Heather receives $50,000, sponsored this year by National Australia Bank.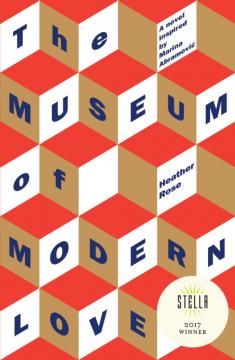 The Stella Prize is a major literary award that celebrates Australian women's writing and an organisation that champions cultural change. The Museum of Modern Love was chosen from an incredible shortlist to win this year's prize. The other shortlisted books were: Between a Wolf and a Dog by Georgia Blain, The Hate Race by Maxine Beneba Clarke, Poum and Alexandre by Catherine de Saint Phalle, An Isolated Incident by Emily Maguire and Dying: A Memoir by Cory Taylor.

Judges' report
The Museum of Modern Love is an exceptional novel that reimagines Marina Abramovic's 2010 performance of 'The Artist is Present', in which she silently encountered individual members of a larger audience of viewers while seated in the atrium of the Museum of Modern Art in New York. The performance itself was an intensely compelling exhibition of the power of silence and vision, and Heather Rose develops a suite of intersecting characters, all visitors to the performance, all subject to their own daily routines, to the possibilities of conversation and restitution, to hope and bereavement, to a need for internal guidance and meaning.
The novel is grounded in the everyday lives of a rich and compelling cast of characters, but it also transmutes the intensity and significance of Abramovic's work into the medium of literature, where people move, in their thoughts, conversations and memories, between everyday life and art, as the modest confrontation of the artist's gaze in her performance stimulates each character's individual confrontation with questions that lie at the heart of their own lives. This novel is an unusual and remarkable achievement, a meditation on the social, spiritual and artistic importance of seeing and being seen, and listening for voices from the present and past that may or may not be easy to hear.
It is rare to encounter a novel with such powerful characterisation, such a deep understanding of the consequences of personal and national history, such affection for a city and the people who are drawn to it, and such dazzling and subtle explorations of the importance of art in everyday life.