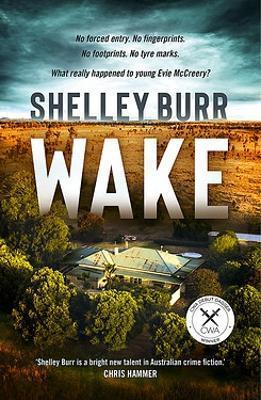 Wake
by Shelley Burr
WHAT REALLY HAPPENED TO YOUNG EVIE McCREERY? A searing debut crime novel where the grief and guilt surrounding an unsolved disappearance still haunt a small farming community . . . and will ultimately lead to a reckoning.
Format

Paperback

Category

Fiction

Publisher

Hachette

Publish Date

April 2022
The small town of Nannine lies in the harsh red interior of New South Wales. Once a thriving outback centre of stockyards and sheep stations, years of punishing drought have petrified the land. Now nearly a ghost town, Nannine has been whittled down to no more than a stoplight, a couple of pubs and a police station. But it has another, more sinister claim to fame: the still-unsolved disappearance of young Evelyn McCreery nineteen years ago from the bedroom she shared with her twin sister. The details seem impossible - the intruder left no evidence. No forced entry. No fingerprints. No footprints. No tyre tracks. Evelyn simply vanished. Mina McCreery's life has been defined by the intense public interest in her sister's case, which is still a hot topic on social media and in true-crime chat rooms. Now an anxious and reclusive adult, Mina lives alone on her family's sunbaked destocked sheep farm. Enter Lane Holland, a private investigator who dropped out of the police academy to earn a living cracking cold cases. Before she died, Mina's mother funded a million-dollar reward for anyone who could explain how Evelyn disappeared from her bed in the family's farmhouse. The lure of cash increased the public obsession with Evelyn and Mina, yet has never led to an answer. Lane needs money to pay for his little sister's university education, and he wins Mina's trust when some of his more unconventional methods show promise. But Lane also has darker motivations for wanting to solve the case, and his obsession with the search will ultimately risk both their lives - and yield shocking results.
Other titles you should consider ...
Not all products are available in all stores.