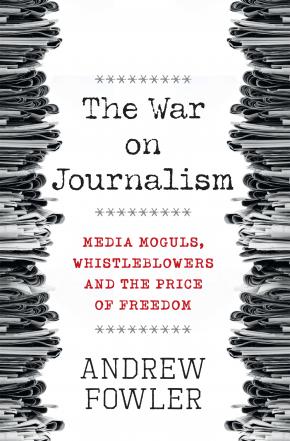 The War on Journalism
by Andrew Fowler
Media Moguls, Whistleblowers and the Price of Freedom
Format

Paperback

Category

Non-Fiction

Publisher

Random House

Publish Date

August 2015
The War on Journalism is a harrowing story of megalomaniac press barons, conspiracies, sackings, cutbacks, and self-censoring journalists, cowed by what legendary investigative reporter Seymour Hersh called "chicken shit editors." When first Chelsea Manning and then Edward Snowden blew the whistle, they did more than reveal extraordinary secrets; they struck the first solid blows against centuries old traditions, where journalism was played by agreed rules. Governments "leaked" secret information to their favorite journalists in return for sympathetic coverage. Now racked by public distrust, the cash-starved mainstream media is struggling to survive. Newspapers which flourished for hundreds of years and TV networks that once ruled the world are in serious decline. Andrew Fowler gives the inside story on how and why the media helped write its own epitaph. Fowler, an investigate reporter with Australia's prestigiousFour Corners documentary program for almost 20 years, and author of the international best sellerThe Most Dangerous Man in the World, the revelatory story of Julian Assange and the rise of WikiLeaks, has pieced together the extraordinary story on the decline of mainstream journalism. It's not just the notorious tabloids like Rupert Murdoch'sNews of the World, infamous for its phone hacking crimes, which have caused the trouble. The BBC, Australia's ABC, theWashington Post, the New York Times, and the Guardian, are also in the firing line. Now the establishment is fighting back with draconian laws to silence the new journalism. From the UK to the US to Australia, governments are harassing journalists, threatening to jail both the whistleblowers and those who publish their leaks. A battle, shrouded in the cloak of national security, pitting the public's right to know against the powerful interests of those who want business as usual, it's a stark choice: an increasingly democratic world, or one dominated by executive government, often unchallenged and unaccountable, spying on its own citizens and producing fraudulent arguments to fight horrific wars. Just who wins this information battle will not only define the kind of journalism that survives, but also the kind of world we will all live in.
Other titles you should consider ...
Not all products are available in all stores.