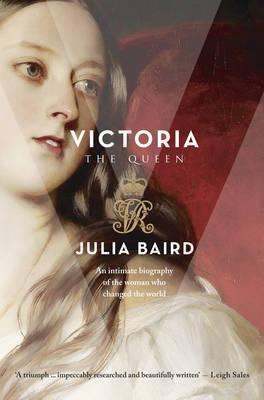 Victoria
by Julia Baird
The extraordinary story of the world's most influential, intriguing and surprising ruler, Queen Victoria. When Alexandrina Victoria was crowned Queen of the United Kingdom of Great Britain and Ireland on 20 June 1837, she was 18 years old and barely five feet tall.
Format

Hardcover

Category

Non-Fiction

Publisher

HarperCollins

Publish Date

October 2016
Her subjects were fascinated and intrigued; some felt sorry for her. Writer Thomas Carlyle, watching her gilded coach draw away from the coronation, said: 'Poor little Queen, she is at an age at which a girl can hardly be trusted to choose a bonnet for herself; yet a task is laid upon her from which an archangel might shrink.' Queen Victoria is long dead, but in truth she has shaped us from the grave. She was a tiny, powerful woman who reigned for an astonishing 64 years. By the time of her Diamond Jubilee Procession in 1897, she reigned over a fourth of the inhabitable part of the world, had 400 million subjects, and had given birth to nine children. Suffrage, anti-poverty and anti-slavery movements can all be traced to her monumental reign, along with a profound rethinking of family life and the rise of religious doubt. When she died, in 1901, she was the longest reigning monarch in English history. Victoria is truly the woman who made the modern world. A fascinating, provocative and authoritative new biography of Queen Victoria which will make us see her in a new light, from one of Australia's most admired and respected journalists and commentators, Julia Baird. 'A triumph. Genuinely fresh insights into one of history's most intriguing figures, impeccably researched and beautifully written.' Leigh Sales, Anchor, 7.30, ABC 'It's Baird's gift as a storyteller, her knack for human detail and the idiosyncrasies of the era, that make this book so superb. Through her eyes, the stolid Victoria we thought we knew comes thrillingly alive. An extraordinary story, told with brilliance and tenderness by one of Australia's most perceptive writers.' Annabel Crabb 'A thoroughly contemporary biography ... Baird brings the figure of Victoria richly to life, with all her contradictions. Artistic and enquiring, passionate in her loves (and hates) [...] she comes across as something like a royal version of Jo March ... Lively, intelligent.' Books + Publishing 'Victoria was young enough when she assumed the throne to consult with her prime minister about her eyebrows (were they too thin?), confident enough when she married to excise the word 'obey' from her vows. Julia Baird vividly captures her in every light, at once bold and sentimental, stubborn and deferential. Victoria: The Queen is a crisp, sparkling account of the extraordinary woman whose reign was as long as her legacy is vast.' Stacy Schiff, Pulitzer Prize-winning author of Cleopatra 'A stunning achievement . . . Neither sanitized nor mythologizing,Victoria: The Queen is a remarkably lucid, endlessly engaging account of Queen Victoria's life and rule.' Amanda Foreman, author of the prize-winning best seller Georgiana, Duchess of Devonshire and the 2016 chair of The Man Booker Prize. 'With elegance and keen insight, Julia Baird has painted a memorable, moving, and surprising portrait of one of the most important women in history. This is a remarkable book; in Baird's hands, Victoria's story resonates in our own time, shedding new light on why we live the way we do now.' Jon Meacham, Pulitzer Prize-winning author of American Lion 'What was it like to reign over the world's greatest empire as queen-but in an age when women were supposed to be submissive, supportive, subservient? Baird does not shy away from reality or complexity. She has given us a moving, lusty, passionate, thoroughly human story of one of the most fascinating women of her, or any, time.' Evan Thomas, New York Times bestselling author
Other titles you should consider ...
Not all products are available in all stores.