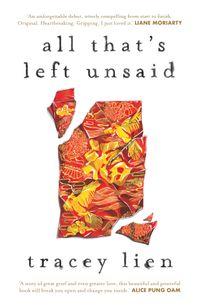 All That's Left Unsaid
by Tracey Lien
Tracey Lien's extraordinary debut is at once heart-pounding and heart-rending as it pulls apart the intricate bonds of friendship, family, culture and community that produced a devastating crime. Combining evocative family drama and gripping suspense, All That's Left Unsaid is both a study of the effects of inherited trauma and social discrimination, and a compulsively readable literary thriller that expertly holds the reader in its grip until the final page.
Format

Paperback

Category

Fiction

Publisher

Harper Collins

Publish Date

August 2022
There were a dozen witnesses to Denny Tran's brutal murder in a busy Sydney restaurant. So how come no one saw anything? "Just let him go" Those are words Ky Tran will forever regret. The words she spoke when her parents called to ask if they should let her younger brother Denny out to celebrate his high school graduation. That night in 1996, Denny – optimistic, guileless, brilliant Denny – is brutally murdered inside a busy restaurant in Cabramatta, a Sydney suburb facing violent crime, an indifferent police force, and the worst heroin epidemic in Australian history. Returning home for the funeral, Ky learns that the police are stumped by her brother's case: several people were at Lucky 8 restaurant when Denny died, but each of the bystanders claim to have seen nothing. As an antidote to grief and guilt, Ky is determined to track down the witnesses herself. With each encounter, she peels away another layer of the place that shaped her and Denny, exposing the trauma and seeds of violence that were planted well before that fateful celebration dinner: by colonialism, by the war in Vietnam, and by the choices they've all made to survive.
Other titles you should consider ...
Not all products are available in all stores.