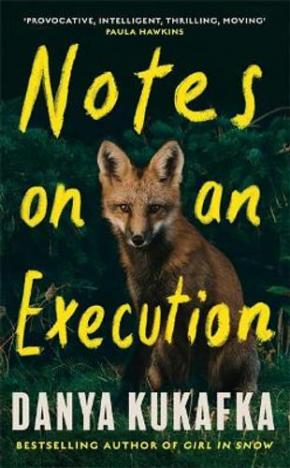 Notes on an Execution
by Danya Kukafka
Blending breathtaking suspense with astonishing empathy, Notes On An Execution presents a chilling portrait of womanhood as it unravels the familiar narrative of the American serial killer, interrogating the justice system and our cultural obsession with crime stories and asking readers to consider the false promise of looking for meaning in the psyches of violent men.
Format

PB

Category

Fiction

Publisher

Hachette Livre Australia

Publish Date

January 2022
Ansel Packer is scheduled to die in twelve hours. He knows what he's done, and now awaits the same chilling fate he forced on those girls, years ago. But Ansel doesn't want to die; he wants to be celebrated, understood. He hoped it wouldn't end like this, not for him. Through a kaleidoscope of women, we learn the story of Ansel's life. We meet his mother, Lavender, a seventeen-year-old girl pushed to desperation. We meet Hazel, twin sister to Ansel's wife, inseparable since birth, forced to watch helplessly as her sister's relationship threatens to devour them all. And finally, Saffy, the homicide detective hot on his trail, who has devoted herself to bringing bad men to justice but struggles to see her own life clearly. As the clock ticks down to Ansel's execution, these three women sift through the choices that culminate in tragedy, exploring the rippling fissures that such destruction inevitably leaves in its wake.
Other titles you should consider ...
Not all products are available in all stores.