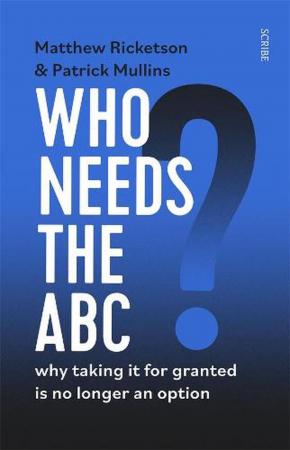 Who Needs the ABC?
by Matthew Ricketson & Patrick Mullins
The Australian Broadcasting Corporation is under an existential threat, especially from the conservative federal government, even though it is the best-trusted news organisation in Australia, and plays a vital role in Australian life.
Format

Paperback

Category

Non-Fiction

Publisher

Penguin Random House

Publish Date

March 2022
For years, the ABC's funding has been slashed, forcing it to let go journalists with decades of experience in asking hard questions about anyone and everyone, including government. It has been besieged by written complaints from ministers, hectoring by prime ministers, and intense pressure on its most senior executives. Its board has been stacked with a succession of political appointees. It has been relentlessly, often baselessly, attacked by the Murdoch media. Apart from the external attacks, the ABC has also inflicted damage on itself. It has not only shed staff but has cut important programs; contentious enterprises have been dropped and replaced by benign, inoffensive ones. It is not surprising that staff morale at the ABC has sunk in recent years. This book details how the travails of the ABC in this period fit into a global debate about the role of public broadcasting in the modern era. Who Needs the ABC? also takes seriously the arguments made for the ABC's break-up and privatisation, and offers a rejoinder to those calls. It doesn't shy away from the failings that have led to the ABC's current parlous position, but it identifies the vital role that it plays in Australian cultural and democratic life, and argues for a continuation of that role - and shows how it can be done.
Other titles you should consider ...
Not all products are available in all stores.